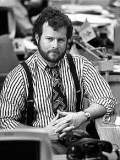 Born August 8, 1951 in Davenport, Iowa, Shilts grew up in Aurora, Illinois, with five brothers in a politically conservative, working-class family. He majored in journalism at the University of Oregon, where he worked on the student newspaper, the Oregon Daily Emerald, becoming an award-winning managing editor. During his college days, he came out publicly as a gay man at age 20.
Shilts graduated near the top of his class in 1975, but as an openly gay man, he struggled to find full-time employment. After several years of freelance journalism, he was finally hired as a national correspondent by the San Francisco Chronicle in 1981, becoming "the first openly gay reporter with a gay 'beat' in the American mainstream press.
In addition to his extensive journalism, Shilts wrote three best-selling, widely acclaimed books. His first, The Mayor of Castro Street: The Life and Times of Harvey Milk, is a biography of the first openly gay San Francisco politician.
---