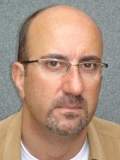 Raymond Khoury (b. 1960 in Beirut, Lebanon) is a screenwriter and novelist, best known as the author of the 2006 New York Times Bestseller The Last Templar.
During the early days of his screenwriting career, before he was even able to attract an agent, Khoury completed a screenplay he called The Last Templar, an "epic" thriller about a search for the lost treasure of the Knights Templar. After eighteen months of research and writing, Khoury lent the script to a friend who immediately suggested that Khoury turn it into a novel. With Khoury's permission, the friend submitted the screenplay to a book agent. Within a few months (in 1996), Khoury was offered a six-figure advance by a major publisher to create a book based on the screenplay, with the stipulation that the book exclude all references to religion. Although at that time Khoury had not sold any of his other writing work, he declined the money and the book deal.
His pet screenplay set aside, Khoury worked on his screenplays for several years, building a successful career for himself in London and in Hollywood, before a new agent at the William Morris Agency, who he had joined at that point, read his screenplay of The Last Templar and encouraged him to adapt it into a novel. Finally, in September 2002, Khoury began researching and writing the novelized version of his screenplay, which took three years to write. The novel sold quickly, and was first released in the UK in 2005. It soon became a New York Times Bestseller, spending 11 weeks on the hardcover fiction list, and a Number 1 bestseller overseas. It has been translated into thirty-eight languages and published in over forty countries. Although the book shares some general thematic concepts with those of Da Vinci Code author Dan Brown, Khoury devised his plot before Brown's novels were released.
---