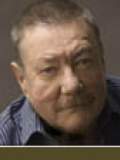 Born and raised in Massachusetts, Parker attended Colby College in Maine, served with the Army in Korea, and then completed a Ph.D. in English at Boston University. He married his wife Joan in 1956; they raised two sons, David and Daniel. Together the Parkers founded Pearl Productions, a Boston-based independent film company named after their short-haired pointer, Pearl, who has also been featured in many of Parker's novels. He and Joan live in the Boston area.
Parker began writing his Spenser novels in 1971 while teaching at Boston's Northeastern University. Little did he suspect then that his witty, literate prose and psychological insights would make him keeper-of-the-flame of America's rich tradition of detective fiction. Parker's fictional Spenser inspired the ABC-TV series Spenser: For Hire. In February 2005, CBS-TV broadcast its highly-rated adaptation of the Jesse Stone novel Stone Cold, which featured Tom Selleck in the lead role as Parker's small-town police chief. The second CBS movie, Night Passage, also scored high ratings, and the third, Death in Paradise, aired on April 30, 2006.
Parker was named Grand Master of the 2002 Edgar Awards by the Mystery Writers of America, an honor shared with earlier masters such as Alfred Hitchcock and Ellery Queen.
---