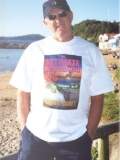 Robert G. Barrett's infamous alter-ego Les Norton first appeared in a short story called A Hard Man published in Australian Penthouse. He is an amalgam of some meat workers that Bob met in Queensland many years ago and a former Sydney identity. Bob so liked his Norton character that he turned A Hard Man into his first book, You Wouldn't Be Dead for Quids (1984), which has gone on to be one of this country's bestselling fiction titles and is currently in its14th reprint.
Barrett grew up in Bondi, Australia, the son of George and Marguerite Barrett. He left school at 14 to do a few odd jobs before taking on a trade as a butcher around the eastern suburbs of Sydney. He gave up his trade when a hind of beef fell on him and injured his shoulder. While he was on worker's compensation, he completed three writing courses at the WEA (Worker's Education Authority). When his sickness benefits ran out he worked at various jobs: DJ, barman, or went on the dole. His first writing job was gag writing for disc jockeys on Radio 2SM. He also signed up with a casting agent and started acting in commercials and television series and appeared in what he calls classic A-grade clunkers, the movies Bullamakanka and The Empty Beach.
He has gone on to become a successful homegrown true blue Aussie writer. Fair dinkum.
---