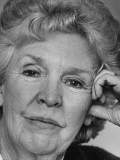 Born in New Zealand in 1917, Ruth spent most of her adult life in Australia. She was widely read and well-loved for her books which were as equally successful for adults as for children.
Ruth was catapulted into fame when she won the inaugural Sydney Morning Herald Literary Competition in 1946, with her novel The Harp in the South. Her literary reputation grew as she honed her craft, writing fiction and non-fiction, winning a variety of awards and much acclaim. Her output of work spanned nearly seven decades.
Ruth Park died in December 2010.
---