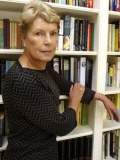 Ruth Barbara Rendell, Baroness Rendell of Babergh, CBE, (born 17 February 1930), who also writes under the pseudonym Barbara Vine, is an acclaimed English crime writer, known for her many psychological thrillers and murder mysteries.
Aside from her police procedurals starring her most enduring creation, Chief Inspector Wexford, Rendell has written psychological crime novels wherein she explores themes such as sexual obsession, the effects of misperceived communication, the impact of chance and coincidence and the humanity of the criminals involved. In many of these books the protagonists are severely socially isolated and disadvantaged and the writer explores the ways in which their circumstances adversely impact on them as well as their victims in a vivid, convincing and spellbinding manner. These books include A Judgement In Stone, The Face of Trespass, Live Flesh, Talking to Strange Men, The Killing Doll, Going Wrong and Adam and Eve and Pinch Me.
Rendell created a third strand of writing with the publication of A Dark-Adapted Eye under her pseudonym Barbara Vine in 1986 (the name derives from her own middle name and her grandmother's maiden name). Books such as King Solomon's Carpet, A Fatal Inversion and Asta's Book (alternative US title, Anna's Book) inhabit the same territory as her psychological crime novels while they further develop themes of family misunderstandings and the side effects of secrets kept and crimes done. Rendell is famous for her elegant prose and sharp insights into the human mind, as well as her ability to create cogent plots and characters. Rendell has also injected the social changes of the last 40 years into her work, bringing awareness to such issues as domestic violence and the change in the status of women.
---