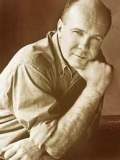 Simon Winchester, is a British writer, journalist and broadcaster. He was born in North London on 28th September 1944. He was educated first at a boarding convent in Bridport, Dorset and later at Hardye's School, Dorchester, Dorset later to be expelled for conducting a spectacularly destructive chemical experiment in the newly-opened science laboratories. After taking time off to hitch-hike around Canada and the United States for almost a year between leaving school and entering university, he went up to Oxford in 1963, to read geology at St. Catherine's College.
He achieved some early and unintended notoriety in this post during the spring of 1982 when he managed both to be on the Falkland Islands when they were invaded by Argentine forces, and shortly afterwards to be captured in southern Patagonia, along with two other journalist working for the rival newspaper, the Observer, and held in prison in Tierra del Fuego, Argentina, for the following three months.
He was to remain based in southern China, it was here that his recent good fortune as an author began, with the publication in 1998 of The Professor and the Madman. Although his publishers had little initial hope for the book ordering an initial very modest print run of some 10,000 copies it happened that thanks to a convergence of happy circumstances the book went on to sell millions of copies, and remains in print today in both hardback and paperback twelve years after publication.
---