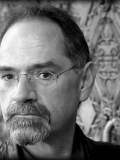 Stephen Lawhead was born in America in 1950, but it wasn't until he and his family moved to Britain that he really began writing in earnest. Since setting in Oxford he has written a host of novels, perhaps most famously the four volume Pendragon Cycle and, last year, the epic tale Byzantium, set amidst the glittering but corrupt Byzantine empire of the 9th century.
Interestingly, it was while he was writing Byzantium that Stephen found the direction he wanted for a new trilogy that would be set a little further forward in time. This would be the story of a Scottish family fighting not only for its faith, but for its very existence amidst the blood and brutality of the Crusades.
It all begins with The Iron Lance, the story of Murdo Ranulfson, a young boy gowing up in the remote Orkney Isles, whose family's farm and possessions are confiscated by a corrupt Church. Murdo determines to follow in his crusading father's footsteps and make for Jerusalem, but nothing is that simple in the bloody days of the Crusades and amidst the deadly political power plays of the disintegrating Holy Roman Empire...
---