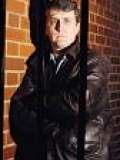 Stephen Leather is an English thriller author who writes pacy "action packed" novels in a style deliberately based upon the work of Jack Higgins and Gerald Seymour. His novels frequently include themes of crime, imprisonment and military service, and lately terrorism and the War Against Terror. Settings are typically London and the Far East. He is now published by Hodder and Stoughton and has sold more than two million books in more than twenty languages.
Leather was born in Manchester and grew up in Sale and Chorlton-cum-Hardy, and attended Manchester Grammar School. After a career as a journalist - working for the Glasgow Herald, the Daily Mirror, the Daily Mail, the South China Morning Post and The Times - he began writing fiction, and his first novel was published from the "slush pile" at Harper Collins. He has since moved from England to the Far East, to the USA and Ireland, writing novels set in these countries.
Two of his novels, The Stretch and The Bombmaker, were filmed for Sky Television. He has also written for TV shows such as The Knock, London's Burning and the BBC's Murder In Mind series.
---