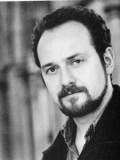 Stuart MacBride is a Scottish writer, most famous for his crime thrillers set in the "Granite City" of Aberdeen. Stuart was born in Dumbarton, Scotland and raised in Aberdeen. He studied architecture at Heriot Watt University in Edinburgh. His careers include scrubbing toilets offshore, graphic design, web design and IT/computer programming. MacBride claims his origins in writing lie in science fiction, however maintains that his upcoming book, Halfhead, is not science fiction. In his words, "crime fiction set in Victorian times is historic crime fiction, crime fiction set in the 21st Century is crime fiction, however set it 60 years in the future and it's bloody sci-fi!"
MacBride's publishing deal was secured with the writing of Halfhead, however the publishers were more interested in Cold Granite, concerning DS Logan MacRae. He was signed on a three-book Logan deal, which was further extended to six books. In 2009 he signed another deal, allowing him to write two more Logan books, and two standalone novels, the first of which is due after the sixth installment of the Logan MacRae series.
He now lives in north-east Scotland with his wife, Fiona and their cat Grendel. He is reputed to be a passionate potato grower.
---