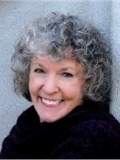 Born in Louisville, Kentucky, Sue Grafton is the daughter of novelist C. W. Grafton and Vivian Harnsberger, both of whom were the children of Presbyterian ministers. Grafton and her sister Ann were raised in Louisville. She attended both the University of Louisville (freshman year) and Western Kentucky State Teachers College (sophomore and junior years) before graduating from the University of Louisville in 1961 with a bachelors degree in English Literature and minors in Humanities and the Fine Arts.
Grafton began writing when she was 18 and finished her first novel four years later. She continued writing, and completed six more manuscripts. Two of these seven novels were published. Unable to find success with her novels, Grafton turned to screenplays. She spent the next fifteen years writing screenplays for television movies, including Sex and the Single Parent, Mark, I Love You, and Nurse. Her screenplay for Walking Through the Fire earned a Christopher Award in 1979. In collaboration with her husband, Steven Humphrey, she also adapted the Agatha Christie novels A Caribbean Mystery and Sparkling Cyanide for television, as well as cowriting Killer in the Family and Love on the Run.
All novels of the series are written from the perspective of a female private investigator named Kinsey Millhone who lives in Santa Teresa, California. Grafton's first book of this series is "A" Is for Alibi, written and set in 1982. The series continues with "B" Is for Burglar, "C" Is for Corpse, and so on through the alphabet. After the publication of "G" Is for Gumshoe, Grafton was able to quit her screenwriting job and focus on her novels. The timeline of the series is slower than real-time - "Q" Is for Quarry, for example, is set in 1987, even though it was written in 2002. Her latest book, "T" Is for Trespass, was released in December 2007, and "U is for Undertow" is to follow. Grafton has publicly stated that the final novel in the series will be titled "Z" Is for Zero.
---