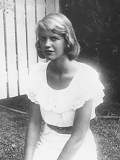 Sylvia Plath (October 27, 1932 February 11, 1963) was an American poet, novelist, children's author, and short story author. She has a best-selling semi - autobiographical novel, The Bell Jar which is now still published because of its high demand.
Sylvia was born in 1932, Massachusetts. She went to Smith College and was awarded a coveted position as a guest editior at Mademoiselle magazine. She then moved on and recieved a Scholarship to Newnham College, Cambridge where she continued to write poetry.
In 1963, Sylvia too her own life. Plath's gravestone in Heptonstall churchyard bears the inscription "Even amidst fierce flames the golden lotus can be planted," drawn from the Bhagavad Gita.
---