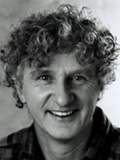 Terry Denton is among Australia's busiest literary creative forces and his work, either as a writer, illustrator or both, can be found in popular children's titles such as 'Gasp!', 'Duck For Cover' and 'Sucked In!'.
Born in Melbourne in 1950, second youngest of five boys, Terry originally studied Architecture, but unhappy with that course, he left Uni and set about discovering what kind of artist he really wanted to be. Over the next seven years he tried animation, painting, theatre, etching, sculpture, cartooning, and worked part-time with a friend running a music shop.
In 1984 he wrote and illustrated 'Felix And Alexander' (Hodder Headline). It was published in 1985 and won the CBC Picture Book of the Year in 1986. Since then he has illustrated more than 30 books, ten of which he has also written.
---