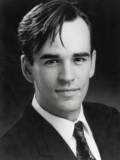 Timothy Dorcen Langbene Ferguson (born on 16 November 1963 in Sydney, NSW) is an Australian comedian and television presenter.
His first major appearance was as a member of the Doug Anthony All Stars, along with Paul McDermott and Richard Fidler, on the ABC television show, The Big Gig, where they quickly gained a following. This was soon followed by their own show, DAAS Kapital.
The trio launched themselves at the Edinburgh Festival in 1986 and became the biggest selling comedy act in the festival for a decade. Their success led to their own BBC TV show 'DAAS Love', the Channel Four series 'Viva!' and appearances on 'Friday Night Live' with Ben Elton. DAAS took their confronting and often violent comic style to Japan in 1990. They won the Best Comedy Award at the Hokkaido International Festival and sold over 600,000 albums.
---