Genius Ideas (Mostly)
4. Genius Ideas (Mostly)
---
Seeing Delia without her sunglasses on is a BIG shock, but that's nothing compared with the surprise Dad has in store for me with his new-found fitness regime.

Meanwhile, Derek and I keep practising in DOGZOMBIES-you never know, we might even get to play another gig? But right now, I'm still wondering how Amy Porter managed to talk me into auditioning for the SCHOOL PLAY.

While Marcus Meldrew is being extra smug because he's only gone and got the lead role . . .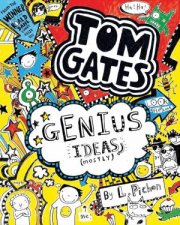 Genius Ideas (Mostly) Tom Gates