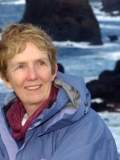 Ann grew up in the countryside of England. After dropping out of university she took a number of temporary jobs and at one of the jobs (cooking in the Bird Observatory on Fair Isle), she met her husband Tim, a visiting Ornithologist. Together they moved to Hilbre and it was there she started writing (as there isnt much else to do in Hilbre!).
In 1987 Tim, Ann and their two daughters moved to Northumberland and the north east provides the inspiration for many of her subsequent titles. In the autumn of 2006, Ann and Tim finally achieved their ambition of moving back to the North East.
For the National Year of Reading, Ann was made reader-in-residence for three library authorities. It came as a revelation that it was possible to get paid for talking to readers about books! She went on to set up reading groups in prisons as part of the Inside Books project, became Cheltenham Literature Festival's first reader-in-residence and still enjoys working with libraries.
---