It Ain't Necessarily So...Bro

It Ain't Necessarily So...Bro
---
Are virgin births possible? (they are)
Will a black hole suck you in? (it won't)
Is the most radioactive device in our homes the microwave? (it's not, it's the smoke detector)
No-one conveys the excitement and wonder of science quite like Dr Karl and this, his twenty-fifth book, takes us on another thoroughly entertaining exploration of the world around us. If you like your science fun and unpredictable, don't miss this new addition to the Dr Karl library.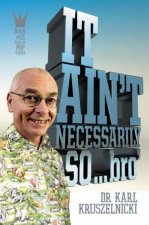 It Ain't Necessarily So...Bro