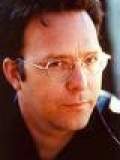 Garth Nix (born 19 July 1963 in Melbourne) is an Australian author of young adult fantasy novels, most notably the Old Kingdom series, The Seventh Tower series, and The Keys to the Kingdom series. Garth Nix is not a pseudonym. He has frequently been asked this question and said, "I guess people ask me because it sounds like the perfect name for a writer of fantasy. However, it is my real name.
Nix was born in Melbourne, Australia, and spent his childhood in Canberra. He attended the University of Canberra from 1984-1986. Emerging in 1986 with a Bachelor of Arts degree in professional writing, Nix soon became heavily involved in the publishing industry after moving to Sydney, working his way up the corporate ladder until finally becoming a senior editor in 1991 with HarperCollins Australia. He left to travel overseas in 1993, returning to work in 1994 with an IT public relations and marketing firm which in 1996 led to him co-founding PR firm Gotley Nix Evans Pty Ltd. In 1999 he joined Curtis Brown, an Australian literary agency, as a part-time agent after a stint as a full-time writer in 1998. However, in 2002, Nix once more became a full-time writer. He has worked as a part-time soldier in the Australian Army Reserve, and as a bookseller, book sales representative, publicist, editor, marketing consultant and literary agent. His books are published around the world and have been translated into 36 languages. Nix's books have appeared on the bestseller lists of The New York Times, Publishers Weekly, The Bookseller, The Australian and The Sunday Times. Garth Nix has recently signed a reported seven-figure deal for three new titles, two being additions to the Old Kingdom series, a prequel and a sequel, the first of which has the working title Clariel: The Lost Abhorsen. These titles will appear in 2010 and 2011 . His series The Seventh Tower, originally published in the USA by Scholastic in 1999-2001 is currently being published in the UK, starting with The Fall in March 2008 .
He currently lives near Coogee Beach, Sydney, with his wife, Anna, and his sons, Thomas and Edward Nix.
---