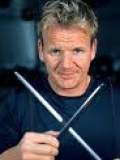 Gordon was born in Scotland in 1966, but moved to England at the age of five. He was a talented footballer, but two knee injuries curtailed his dreams, so he completed a course in hotel management. Ramsay's first years in the kitchen were spent training under culinary luminaries such as Marco Pierre White and Albert Roux in London, after which he moved to France where he worked in the kitchens of Guy Savoy and Jo l Robuchon for three years where he was able to enhance his expertise in classic French cooking. In 1993, Gordon became chef of the newly opened Aubergine, within three years the restaurant was awarded two Michelin stars.
His quest to gain the coveted three Michelin stars for his restaurant was featured in the TV series Boiling Point in 1998. In 2004 he shot to fame after starring in the TV series Ramsay's Kitchen Nightmares. Hell's Kitchen and The F-Word followed, bringing Gordon and his unique style to living rooms around the world. Ramsay is one of only three chefs in the UK to maintain three Michelin Stars for his restaurant (the others being Heston Blumenthal and Alain Roux). He was appointed OBE in the 2006 honours list "for services to the hospitality industry".
Ramsay's reputation is built upon his goal of culinary perfection, has also become infamous for his fiery temperament and use of expletives.
---