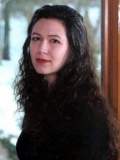 Jacqueline Carey (born 1964 in Highland Park, Illinois) is an author and novelist, primarily of fantasy fiction.
Her first novel was Kushiel's Dart, published by Tor Books in 2001, and the recipient of the 2002 Locus Award for Best First Novel. The Kushiel's Legacy trilogy, completed with Kushiel's Chosen and Kushiel's Avatar, follows the story of a courtesan in a historical fantasy or alternate history (Terre d'Ange) society that follows a demi-god, Elua, whose precept is "Love as thou wilt". The map of Terre d'Ange, the "Land of the Angels," bears a striking resemblance to that of France. Fictional versions of Greece, Great Britain, Italy, Germany, and Spain also figure prominently in the series. Elua was born when the blood of Yeshua, the son of God, mingled with the tears of the Magdelene and fell on the Earth. Seven angels rejected God to become Elua's companions on Earth. All D'Angelines are descended from Elua and these angels.
The Imriel trilogy is a continuation of the storyline started in Kushiel's Legacy. The main protagonist is now Imriel n Montr ve de la Courcel, third in line for the Throne of Terre d'Ange and adopted son of Ph dre n Delaunay de Montr ve. Imriel was first introduced in Kushiel's Chosen as the traitor Melisande's infant son.
---