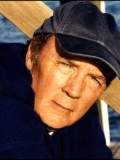 American author James Patterson (born 1947) is one of the most popular, prolific and bestselling authors around today. He is perhaps best known for his Alex Cross series, and the Women's Murder Club series featuring Lindsay Boxer.
Playing his cards close to his chest, not a lot is known about Patterson's personal life and history. He lives in Florida with his wife, Susan, and son, Jack. He has two degrees and formerly worked in advertising, as creative director for J.Walter Thompson Worldwide, until 1996 when he devoted his life full time to writing.
James often writes with co-authors, such as Liza Marklund, Andrew Gross, Maxine Paetro and Howard Roughan. He releases a new book every few months, sometimes as many as eight per year. Most end up as #1 bestsellers. He is responsible for an estimated 170 million copies of his books sold worldwide. Some of his novels have ended up as movies (Along Came A Spider, Kiss The Girls) and television shows (Mircale On The 17th Green, The Womens Murder Club) and there are more in pre-production. He has seen criticism from some peers for his writing style, which he (rightly) dismisses, saying he's a storyteller, and although some may not like him, there are certainly millions who do.
---