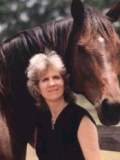 Janny Wurts is an American fantasy novelist and illustrator. She has written several series, including the Wars of Light and Shadow, The Cycle of Fire trilogy, several stand-alone novels, a short story collection and the internationally best selling Empire Trilogy that she co-authored with Raymond E. Feist.
Janny Wurts has written numerous fantasy novels (15 as of 2008). Beyond writing, Janny's award winning paintings have been showcased in exhibitions of imaginative artwork, among them a commemorative exhibition for NASA's 25th Anniversary; the Art of the Cosmos at Hayden Planetarium in New York; and two exhibits of fantasy art, at both the Delaware Art Museum, and Canton Art Museum.
Wurts resides in Florida with her husband, artist Don Maitz.
---