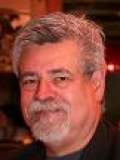 Raymond E. Feist (full name Raymond Elias Feist), is a Southern Californian by birth and a San Diegan by choice. He was educated at the University of California, San Diego, where he received his B.A. in Communication Arts with Honors in 1977.
A New York Times, and Times of London Best-seller, he is the author of Magician, Silverthorn, and A Darkness at Sethanon, the three novels comprising The Riftwar Saga. Other works include the Empire Trilogy (co-authored with Janny Wurts), Krondor's Sons, comprising Prince of the Blood and The Kings Buccaneer, and Faerie Tale a dark-fantasy set in contemporary America. Subsequently he wrote the Serpentwar Saga, and The Riftwar Legacy series which is based in part on the hugely successful computer games set in his universe, Betrayal at Krondor and Return to Krondor.
Recent collaborations in the Legends of the Riftwar, include Honoured Enemy with William Forstchen, Murder in LaMut with Joel Rosenberg, and Jimmy the Hand with Steve M. Stirling.
---