Storm Peak
1. Storm Peak
---
Jesse Parker, ex-Denver police detective, has returned to his hometown of Steamboat Springs, Colorado, to spend the winter working the ski patrol and taking it easy. But he is reluctantly dragged back into a world of violence and murder when a serial killer begins a killing spree in the sleepy ski town.

The town's popular sheriff, Lee Torrens, asks Jesse to help her out with the investigation as the killer continues to stalk the town, leaving little clue as to his motive. Are the murders random acts of a psychopath, or a cold, calculated escalation of terror?

As the two friends work together, the embers of an old union reignite, but the growing notoriety of the Silver Bullet Killer brings complications that will shake the foundations of the small town. No-one is safe.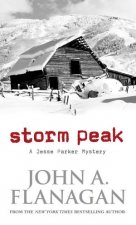 Storm Peak: A Jesse Parker Mystery
Storm Peak: A Jesse Parker Mystery Storm Peak