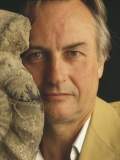 Clinton Richard Dawkins, FRS, FRSL (born 26 March 1941) is a British ethologist, evolutionary biologist and popular science author. He was formerly Professor for Public Understanding of Science at Oxford and was a fellow of New College, Oxford.
Dawkins came to prominence with his 1976 book The Selfish Gene, which popularised the gene-centred view of evolution and introduced the term meme. In 1982, he made a widely cited contribution to evolutionary biology with the concept, presented in his book The Extended Phenotype, that the phenotypic effects of a gene are not necessarily limited to an organism's body, but can stretch far into the environment, including the bodies of other organisms.
Dawkins is a prominent critic of creationism and intelligent design. In his 1986 book The Blind Watchmaker, he argued against the watchmaker analogy, an argument for the existence of a supernatural creator based upon the complexity of living organisms. Instead, he described evolutionary processes as analogous to a blind watchmaker. He has since written several popular science books, and makes regular television and radio appearances, predominantly discussing these topics.
---