1. Fire Boy
---
From Sami Shah comes Fire Boy , an urban fantasy set in modern-day Pakistan, where djinns roam the streets alongside corrupt cops, hustling beggars, and creatures from the darkest corners of Islamic mythology. Growing up in Karachi isn't easy. Wahid has a lot on his mind: the girl he likes, mostly, but also choosing a good university and finding time to play Dungeons and Dragons. Oh, and the fact that he can see djinns, other-worldly creatures made of a smokeless and scorching fire.

After a horrific car accident kills his best friend and djinns steal his girlfriend's soul, Wahid vows to find out why. Fortunately, he has help in finding the djinns that tried to kill him. Unfortunately, that help is from the darkest of all spirits, the Devil himself …



Fire Boy is filled with supernatural entities and high-paced action, but it also gives the reader a vivid insight into life in Pakistan.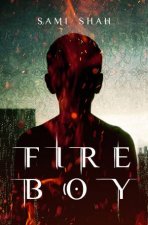 Fire Boy