How to Betray a Dragon's Hero
How to Betray a Dragon's Hero
11. How to Betray a Dragon's Hero
---
In this penultimate book in the How to Train Your Dragon series, Hiccup has one last hurdle before the final battle can begin ...

High up in the treacherous mists of the Murderous Mountains, Hiccup and the Company of the Dragonmark are in hiding. The witch's Spydragons are guarding the shores of Tomorrow - but Hiccup is determined to become King of the Wilderwest.

Can Hiccup dodge the dragons and steal the King's Things back from Alvin before the Doomsday of Yule? And is there a traitor in Hiccup's camp who in the end will betray them all?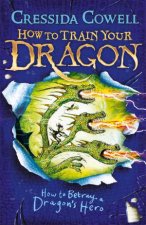 How to Betray a Dragon's Hero