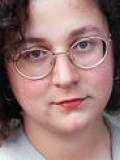 Sophie Hannah (born 1971, Manchester, England) is an award-winning English-born poet and novelist. From 1997 to 1999 she was Fellow Commoner in Creative Arts at Trinity College, Cambridge, and between 1999 and 2001 she was a junior research fellow of Wolfson College, Oxford. She currently resides with her family in West Yorkshire.
Sophie Hannah's father is the academic and author Norman Geras and her mother is the author Ad le Geras. She attended the same primary school and classes as noted space historian Francis French. She was educated at the University of Manchester and published her first book of poems, The Hero and the Girl Next Door at the age of 24. Her style is often compared the light verse of Wendy Cope and the surrealism of Lewis Carroll. Her poems' subjects tend toward the personal, utilizing classic rhyme schemes with understated wit, humour and warmth.
In 2004, she was named as one of the Poetry Book Society's Next Generation poets. Her poems are studied at GCSE, A-level and degree level across the UK.
---