What Bumosaur Is That?
---
• Why was the Tyrannosore-arse Rex so angry?
• Where did Bogasauruses live?
• How many cheeks did a Tricerabutt have?
• Was the Bumheaded idiotasaurus the most stupid bumosaur?
• When did the bumosaurs become exstinkt?

Find the answers to these and many other questions in this fully-illustrated guide to prehistoric bumosaur life. Covering the Pre-Crappian era through to the Post-Crapaceous, this essential reference will thrill, amaze and inform the whole family. Never again will you look like a fool when somebody asks: "What bumosaur is that?"
What Bumosaur Is That?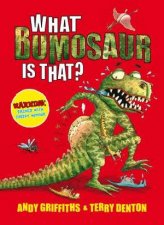 What Bumosaur is That? (Colour Edn) What Bumosaur is That?