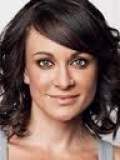 Michelle Bridges was 14 when she began teaching fitness classes to fellow students at High School in Newcastle who 'didn't play sport and hung around smoking cigarettes'. By the age of 18 she was a certified fitness instructor.
In 2007 she made her first appearance on The Biggest Loser, Channel 10's reality weight loss program. She was already well known in fitness industry circles having competed in figure shaping competitions and representing Australia in the world championships in the late nineties.
In 2002 she got a break and conceived, wrote and performed fitness segments for Mornings with Kerri Anne on the Nine Network. After her initial success on The Biggest Loser, she released her first book, Crunch Time. Her reputation as a tough trainer is paralleled by her own training where she is well known for putting herself through grueling weights and fitness sessions.
---