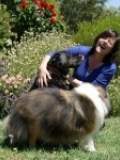 Keri Arthur born and bred Melbourne, Australia, and grew up sharing her life with dragons, elves, vampires, werewolves, shapeshifters and the occasional talking horse...which worried her family to no end. When Keri's not at her keyboard, she can be found at the gym, sitting front of the TV, or taking her two dogs for a walk.
Her past day jobs include Clerk at the Bureau of Meteorology, Cook at the MCG, Function and Desert cook at the Essendon Football Club. Keri started writing when she was about twelve. She'd just read one of Elaine Mitchell's brumby books and hated the ending. So she did what seemed the most natural thing to do...she rewrote it. and hasn't stopped writing since...though it's only in the last fifteen years or so that she's seriously thought about getting published.
Keri's always loved books filled with action, be they fantasy, horror or mystery. What used to annoy her, though, was the lack of capable female stars in many of these books. So that's what she wrote strong, capable women, first in fantasy novels and then in what is now called paranormal romance. She tried for many years to write straight fantasy, but it just never fully clicked for her. So she switched to the real world, and started mixing fantasy elements with the ordinary, everyday world. Besides writing, Keri goes on walks, goes to the gym, watches more TV than is wise, visit craft markets on the weekends, plant plants and try to keep them alive during our drought.
---